Welcome,
Hello and thank you for visiting my website. There's lots of things going on lately that I would like to share with you, so please check out Current News. Also, many pages of the site will be updated on a regular basis, so I hope you will feel free to come back again sometime. Hope to see and/or hear from you soon. Take care.
Chris
Featured on iOS Musician
I want to thank iOS Musician for the featured spot on there home page and also for providing such valuable information for the modern electronic musician. You can click on the picture for a link to their website.
Now On Soundcloud
I am always open to collaborating with other musicians in my recording studio... especially lyricists and soloists. When I meet someone new I am usually asked if I have any samples of my current projects on Soundcloud for which I usually respond "Not Yet"... until now. I finally found some time to check it out and realize that it is a pretty cool way to quicky get a project out there to share. So if anyone is interested in checking out some of my current projects (unfinished), you can click on the Soundcloud logo below and you will be directed to my page. Let me know what you think.
Thanks all.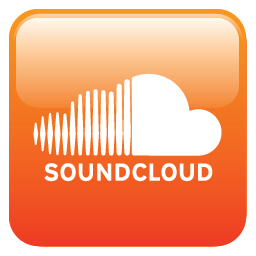 Updated Pictures
Over the years I've had the privilege to play with many fine musicians and for a long time I've been wanting to scan those old photos and share them with everyone on my site. I finally got around to it and if you click on the Photos button above you can see some of the friends I've made music with. There's even some photos that date back to high school days. Hope ya' like.
eKit Back In Action
My electronic drum kit has been evolving since my college days and lately has undergone some major upgrades that allow me to do some real cool things. Being able to control effects, tuning and even adjust waveforms in a live performace has opened up a new realm of sonic posibilities. I'll be using this kit on more of my gigs now, hope you can come hear it sometime.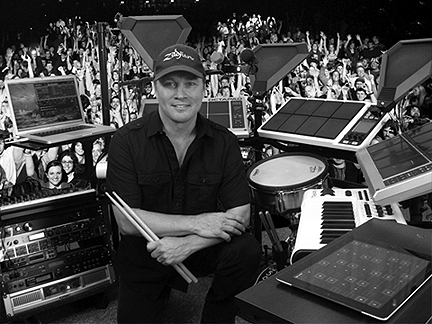 First Solo Guitar Gig
For as long as I've been playing drums, I've also been messing around on the guitar and for several years now I've wanted to try getting on a stage all buy myself and perform some of my favorite songs. So after learning about 40 songs I finally got up the nerve to try them out in front of an audience. I went to The Happy Dog in Gilroy on a Thursday night expecting to sit in with the jammers and play/sing a few songs. When I arrived I found a decent sized audience wanting some music but no jammers at all. So I set up my gear, tuned and started my set thinking there would be more musicians on the way. But no one else showed up and having the stage all to myself, I wound up playing for over an hour and a half. I had so much fun, the audience was very receptive and the club owner Steve, who liked what he heard asked me to come back for some paying gigs. I've spent many years learning and performing on drums and would never give this up, in fact having this new creative outlet makes me enjoy my drumming gigs more than ever. But after doing my first solo guitar gig, I will definitely be reserving some dates on my calendar to do it on a regular basis.
New Original Music
Having a nice space to work in (once again) and a couple new guitars has got me very inspired lately. I've found myself "On a Roll" and while recording lots of new ideas have come up with five new original songs. Right now most of them are pretty stripped down to just acoustic guitar and voice for which I plan on trying out some time soon, maybe to an intimate coffee house crowd. I've experimented with some full band arrangments too, but I haven't decided which versions I want to release first.
My Music On iTunes
As of today my music is available as digital downloads on the iTunes website. You can find them by clicking on the following links :
November 18, 2007 - Studio Complete
I grew up in a family of musicians and now everytime we get together for a holiday or birthday, we wind up having a jam session. So, early in the year I set a goal to have the studio ready by Thanksgiving Day so we could have our jam in the new facility. Well, the goal was meet and the studio construction is finished, I move in all my gear (that was invading the living room), wire everything up (including new mixer) and it's open for business. I've already been recording some new ideas for my next CD. Lookin' forward to the first jam session. Here's a few picts.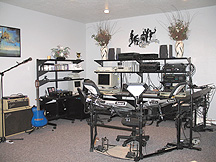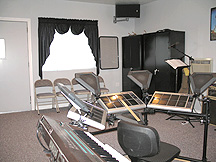 October 24, 2007 - Song Of The Day
GarageBand.com is an independent artist community that has been hosting some of my music for some time now. I've received some very enthusiastic reviews from GarageBand.com members, and as a result, the management has informing me that one of my songs "Distant Memories" has been selected and will be featured as "Track Of The Day" on the site. For 24 hours on Wednesday, the 31st of October, 2007 (PST) "Distant Memories" will be featured on GarageBand.com's Electronic front page. The address for this page will be:
http://www.GarageBand.com/go/GYDCC7E3Q0
October 20, 2007 - Studio Construction Underway
When I was just starting out as a musician I learned early on that I can either spend my money in someone else's studio or use that money to buy my own gear and build my own studio. Well, I've slowly acumulated recording gear and have turned bedrooms into music rooms. Over the years the home studio has grown bigger and bigger, and now I've got my own building that I am in the process of converting to the biggest studio I've ever owned. Construction is moving swiftly and I should be up and running before Thanksgiving. Here's a few pictures.