DRUM PROGRAM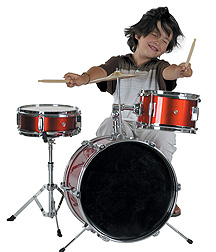 Objectives
The objective of the program is for the student to become proficient on the instrument by introducing and developing the following skills.
• Reading musical notation as applied to the instrument. This will include interpreting standard notation.
• The study of standard rudiments and applying them to the drum set.
• Learning various style of drumming such as rock, jazz, country as well as various ethnic styles
• The ability to have each hand and foot work independently from the other.
• To develop a repertoire of performance pieces. It is important that the musical fundamentals studied are applied in the performance and memorization of various compositions for the drums. This should include the students favorite songs too.
Procedures
The preparation of assigned work will be necessary to accomplish the objectives. Students must be prepared to spend time outside of lesson time to practice and apply the materials discussed.