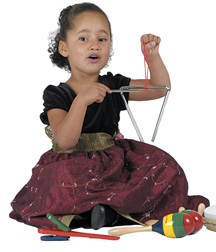 Age-Appropriate Classes
We design our curriculum to bring everything that is music to children through their world of fantasy play, and through their experience with the world of nature. Each lesson is designed as artful experiences that flow from the very beginning movements of the class to the finale and always send the children and their parents home wanting to come back for more.
We believe that music is essential for human development and we strongly encourage parents to make music a part of their child's education from the earliest years through high school. Because of this, we offer developmentally appropriate music education in each of the levels of our program. All lessons are customized for the needs of each student and progress in a logical sequence that expands past lessons. Children who experience our music program often continue and enjoy a higher degree of success in music.
Our Approach
We draw principles and some experiences from Dalcroze, Kodaly, Orff, Pace and other music educators. We connect music to literature, language, poetry, mathematics, feelings, art and dance, celebrations, science and nature. We continue to create and seek out new techniques and materials to enrich and extend our curriculum.
Our Success With Music Literacy
In each program, at every level, we read music. At first, with our ears, our bodies, our hands, our feet, our voices, and beginning at age two with our eyes as well. Rhythmic and melodic patterns and motifs are brought to children on the landscape of fantasy play.

Children also get to explore drums, xylophones, cymbals, wood blocks, triangles, quiros maracas, bells, tambourines, ukuleles and more!